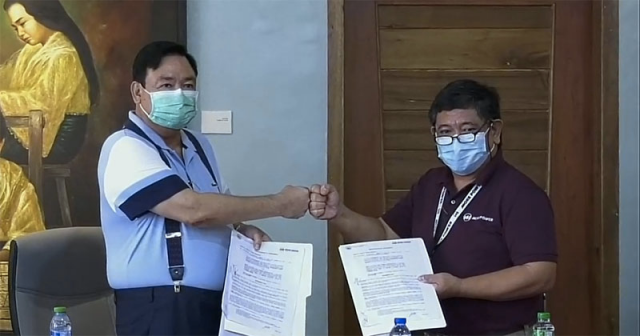 Iloilo City Mayor Jerry Trenas and MORE Power President Roel Castro. Photo: IBS Digital
MORE Power Iloilo's power rate will have a slight increase this month at 47 centavos per kWh. This was after the approval of the Energy Regulation Commission to add distribution charges to recover the 1 billion-peso emergency Capital Expenditures (CapEx). These capital expenditures were spent to repair and improve power facilities from the previous power distributor. This was also affected by the rising prices of fuel globally.
MORE Power still has the lowest power rate in the country with its current average cost of around P8 per kilowatt-hour, despite the increase.
Iloilo City Mayor Jerry Treñas and consumer groups commended the services of MORE Power and found the increase reasonable. "We all feel the improved services of MORE Power," said Treñas.
The Mayor is hoping that the city's sole power distributor will continue to source power from generators offering lower supply rates.
Consumer group Koalisyon Bantay Kuryente find the increase quite reasonable given the efficiency and improvement of MORE Power in delivering its services.
"With continued improvements on the services of MORE Power, the frequencies of brownouts were significantly reduced. Hence, the 47 centavos increase from its current rate is quite reasonable," said Mr. Halley Alcarde, President of Koalisyon Bantay Kuryente at the same time General Manager of Western Visayas Transport Cooperative.
Grupo Consumidor, another consumer group, shared the same sentiment, citing the utility's already delivered and further improvements in its services.
"Considering the need to improve existing facilities in the light of the current global crisis, we at Grupo Konsumidor are of the view that a rate increase of 47 centavos per kWh by More Power is deemed reasonable under the circumstances," said Atty. Eldrid Antiquiera, president of Grupo Konsumidor.
Mayor Treñas expressed his appreciation for MORE Power as a reliable partner of Iloilo City. The improvement of the city's electricity and affordable rates has attracted investors such as the Business Processing Outsourcing (BPO) and real estate sectors.