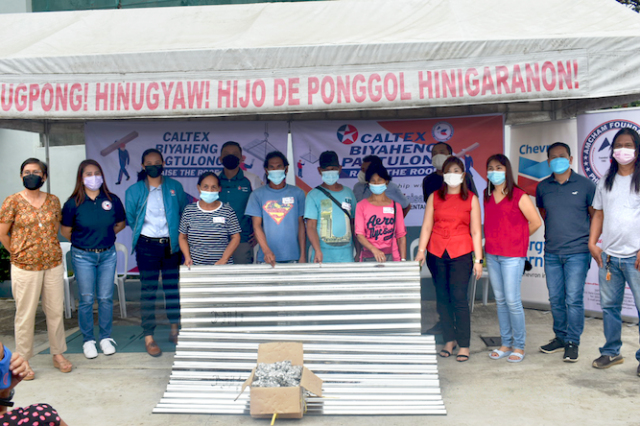 Caltex representatives with the donation beneficiaries in Municipality of Hinigaran, Negros Occidental
Bacolod City, Philippines, September 22, 2022 – Caltex, marketed by Chevron Philippines Inc. (CPI), in partnership with American Chamber Foundation Philippines (AmCham Foundation) and Quidan Kaisahan donated roofing materials to 227 families in Negros Occidental that were affected by Super Typhoon Odette.
Odette made several landfalls in the Philippines in December 2021 damaged 68,616 houses in the province. Poor families are living in their houses still in a state of disrepair. Each family from the Municipalities of Hinigaran, Pontevedra and Murcia, received 6 GI sheets and 1 kilo of roofing nails to help them rebuild their houses. Mayors from each municipality attended the turnover ceremony and expressed their gratitude on the donation for their community.
"We are truly grateful to Caltex, AMCHAM Foundation and Quidan Kaisahan for this donation. It is a big help to our people who are still trying to rebuild their lives and their homes after the typhoon," said, Hon. Jose Maria Alonso, Mayor of Pontevedra Municipality in Negros Occidental.
"Recovering from calamities such as typhoons can be tough and so we are always willing to extend a helping hand the best way we can. We are grateful that we have partners such as AMCHAM Foundation who help us connect to the communities in need to make these donations possible for us to do so," said CPI Country Chairman Billy Liu.
Through Caltex Biyaheng Pagtulong fuel promo launched earlier this year, Caltex raised P5M to help communities in Surigao, Cebu, Palawan, Southern Leyte and Negros Occidental that were badly hit by Super Typhoon Odette.