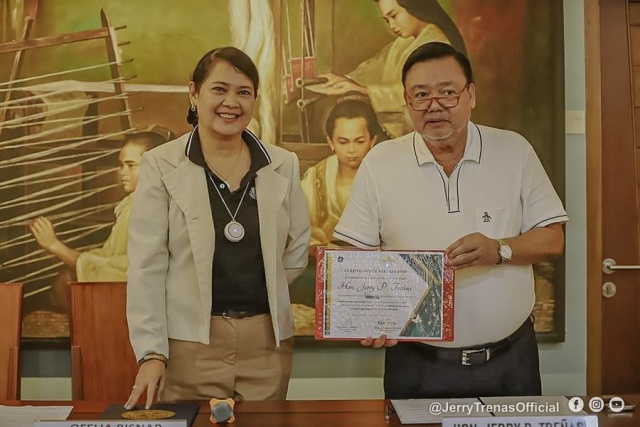 Ofelia Bisnar, Chief Operations Officer of PHINMA UI and Iloilo City Mayor Jerry Treñas
The Iloilo City Government has been granted a Hawak Kamay Scholarship for 200 deserving Grade 12 students or incoming freshmen for School Year 2023-2024, last November 8, 2022. This is in partnership with PHINMA-University of Iloilo.
According to Mayor Jerry Treñas, "We are very pleased to partner with PHINMA University of Iloilo through granting us Hawak Kamay Scholarship to 200 current Grade 12 students or incoming freshmen for school year 2023-2024. Through this, we can create more opportunities to financially-challenged Ilonggo youths to pursue their education and lift their lives."
For those interested in availing this scholarship, the PHINMA UI Hawak Kamay Scholarship have the following requirements:
Should be an SHS (Grade 12) graduate.
Coverage of 25%, 50% or 75% in Tuition and Miscellaneous Fees, depending on screening, from enrollment to graduation. (Could be conjoined with USWAG scholarship)
No cut-off grade upon application.
No grade maintenance as long as subjects are passed.
No entrance examinations after HK coverage screening.
The mayor must indicate the discounts the referred scholars deserve based on their financial capabilities. There will only be 200 slots for the Mayor's referral. Please be guided by the slots per discount:
HK25 = 40 slots
HK50 = 100 slots
HK75 = 60 slots
The mayor can also refer more than the slots given, but these students will have to undergo the interview and screening of their financial capabilities.
In endorsing scholars, PHINMA UI will be collecting the list of referred scholars in December 2022. The Mayor must provide the following details:
For the applicant:
Name of the student:
Contact number:
Grade/Year Level
Current School:
HK Discount (HK75, HK50, or HK25):
For the applicant's parents:
Father's Name
Father's Contact number
Mother's Name
Mother's Contact number:
For inquiries about Hawak Kamay Scholarship, you may contact Ms. Slyvia Infante, Marketing Manager of PHINMA University of Iloilo via email at scinfante.ui@phinmaed.com.
Share this post on social media below or copy this link: https://bit.ly/3gssvrz